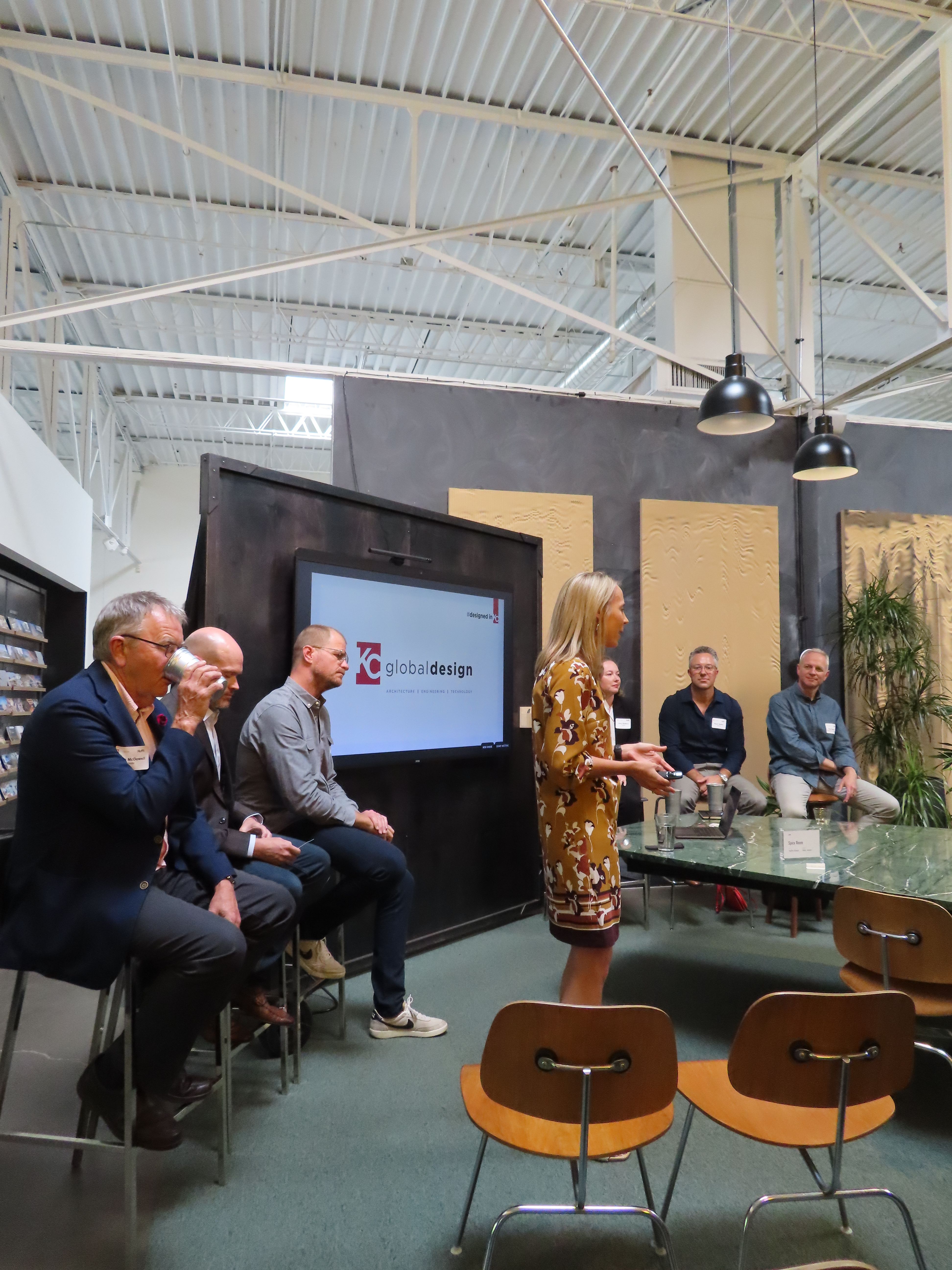 At KC Global Design's Innovation Session hosted at Hufft, member firms and KCADC investors came together to network and hear about some of the latest disruptions in the industry.
Top leaders in the A/E/C industry gave insights to the challenges and innovative solutions their organizations are facing in the current climate and discussed the future of the industry. Here are a few key takeaways from each panelist:
Matthew Hufft, principal and creative director at Hufft, touched on some of the latest tech innovations in the industry including AI programs such as Modsy, Foyer and DALL-E2 and raised the question, "Is technology the problem or the answer?" After highlighting ways that Hufft has recently used tech in projects — such as the "Wooden Waves" project, which created a visual interpretation of sound waves onto reclaimed wood panels — he concluded that technology can be a great thing "if we pay attention, collaborate and lean in on what it means to be human."
Chris Migneron, senior vice president of JE Dunn Construction, discussed the daunting reality of the building and construction industry's impact on climate change, noting that it contributes to 37% of the CO2 emissions globally. He went on to describe some of the groundbreaking work JE Dunn and its partners are doing to be climate positive and equity affirming, stating that collaboration on solutions to these difficult challenges and coming together to drive change are the way to begin to make a difference.
Amy Slattery, founder and CEO of Odimo,  questioned which changes the building industry may be slow to come to fruition for projects of all scales. She proposed that delivery and practice will evolve in many ways in the next 5-10 years, and that architects and designers can be the strongest leaders and advocates for our clients and communities.  She noted the success of organizations such Women in Design-Kansas City (of which she is a founding member), stressing that collaboration is the path to giving "equal access to the table." She concluded with a powerful piece of advice towards a sustainable future: "We all need to redefine what is 'enough' for each of us."
Ryan Sutton, chief marketing officer of Zahner, spoke to the incredible innovations that can result from trustworthy, strategic collaboration, including creating open access to design workflow processes and risk reduction technology systems. His provocation was, "Innovation for the sake of innovation is selfish. Now we're thinking about how to succeed alongside our customers, and if we can be more candid and communicate, we can achieve great things."
Paul Martin, director of advanced manufacturing solutions at Dimensional Innovations, gave attendees a virtual tour of the Innovation Lab inside Dimensional Innovations and the creative solutions the team can execute completely in-house. With a forward-thinking mindset, he shared some of the environmentally-conscious practices his organization has been implementing, including furniture 3D-printed using material made from recycled bottle caps.
Steve McDowell, director of design at BNIM, emphasized the unique strength of the design industry in Kansas City. "The power that we have, from equity to innovation, from sustainability to creating the world we want to live in — the world needs more design and designers to appropriately and innovatively address the challenges facing the world today and in the future — such as the design ecosystem that is anchored here in Kansas City." He empowered the group to take on the challenge of going beyond Kansas City, to "use our power to go out into the world to think and do globally."
Thank you to Hufft for hosting and a special thank you to our panelists and their contributions to the industry.
To learn more about KC Global Design and how you can get involved, contact Ashley McDonald.