Frequently
Asked Questions
How can we help you?
We've taken the liberty to address the most common questions we receive at KC Global Design. Take a look around and find what you need!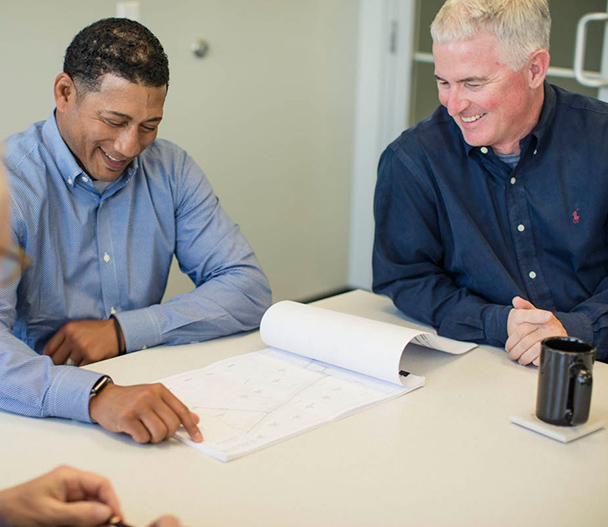 What is KC Global Design?
KC Global Design is a collective of design community firms in the Kansas City region that have come together to tell the story of our industry in Kansas City on a national and global scale. 
Who are we?
We are comprised of nearly 30 building and design industry member firms that are committed to elevating our industry in Kansas City and elevating each other.  
Who are we funded by?
KC Global Design member firms pay an annual contribution to be a part of the collective.  We value diverse perspectives and participation. Our tiered fee structure ensures the collective is accessible and inclusive to any industry and value aligning firm that wants to join. 
How do we do our work?
KC Global Design has three workgroups: Innovation, Awareness, and Talent.  Designated employees from member firm companies comprise the workgroups that  meet regularly to advance initiatives for their respective areas.
What do our workgroups do?
The Talent Workgroup creates and implements short and long-term recruitment plans to create a robust, diverse, and sustainable workforce pipeline. Through partnerships with universities and nonprofits focused on industry education, the Talent Workgroup reaches students in schools and universities to share the story of why AEC and why KC.
The Awareness Workgroup establishes KC's position in the national and international market to attract talent and new business for partner firms.
The Innovation Workgroup leverages advances across firms to demonstrate KC's industry leadership. In 2021 the Innovation Workgroup has four areas of focus; rethinking the public realm, support of the Regional Climate Action Plan, creating an equitable database of drawings for development & general disruption of industry.
Who is leading this effort?
KC Global Design was officially launched in 2019 as an initiative to establish Kansas City as the global destination for talent and innovation in the AEC industry. KC Global Design is part of the KC Rising program created in 2015 to create a sustainable 20-year-plus vision to accelerate economic growth in the Kansas City region. In partnership with the Civic Council of Greater Kansas City, executive leaders from member firms shape the direction and planning of the initiative with support from a dedicated Executive Director.
What is our ultimate goal?
A robust industry concentration, a diverse and sustainable workforce pipeline and status as a global destination for industry expertise and innovation.
Can't find what you're looking for?