There are few organizations that have as rich a baseball history as the Atlanta Braves. The Braves have consistently demonstrated their ability to operate ahead of the curve when it comes to the traditional sports business model. Our design of Cool Today Park appropriately compliments the Braves' passion for delivering an experience for their fans that is unparalleled in baseball.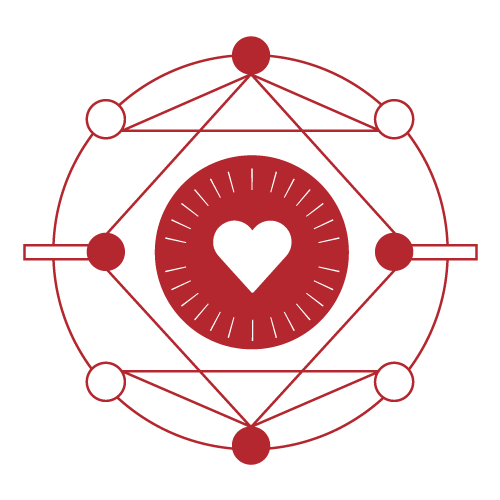 CLIENT: atlanta braves | LOCATION: North Port, FLORIDA
Cool Today Park is more than just a ballpark, it is an eighty acre sports campus that consists of 55,000 square feet of major and minor league clubhouses, 15,000 square feet of team training spaces, four full size practice fields, an agility training surface larger than a football field, indoor weight training, nutrition center, maintenance facilities, and player dormitories. The 6,000 seat, 8,500 capacity ballpark portion of the campus features state-of-the-art amenities, diverse food options, unique seating neighborhoods, and spacious pedestrian concourses – 80% of which are protected from the Florida sun and daily rain showers by large roofs and overhangs. The aforementioned program is complemented by an expanse of press facilities, premium spaces, and semi-premium seating options with room for future expansion.
Date Started: 2017
Date Opened: 2019
Awards:
Construction Specifications Institute: Visionary Design Award, 2019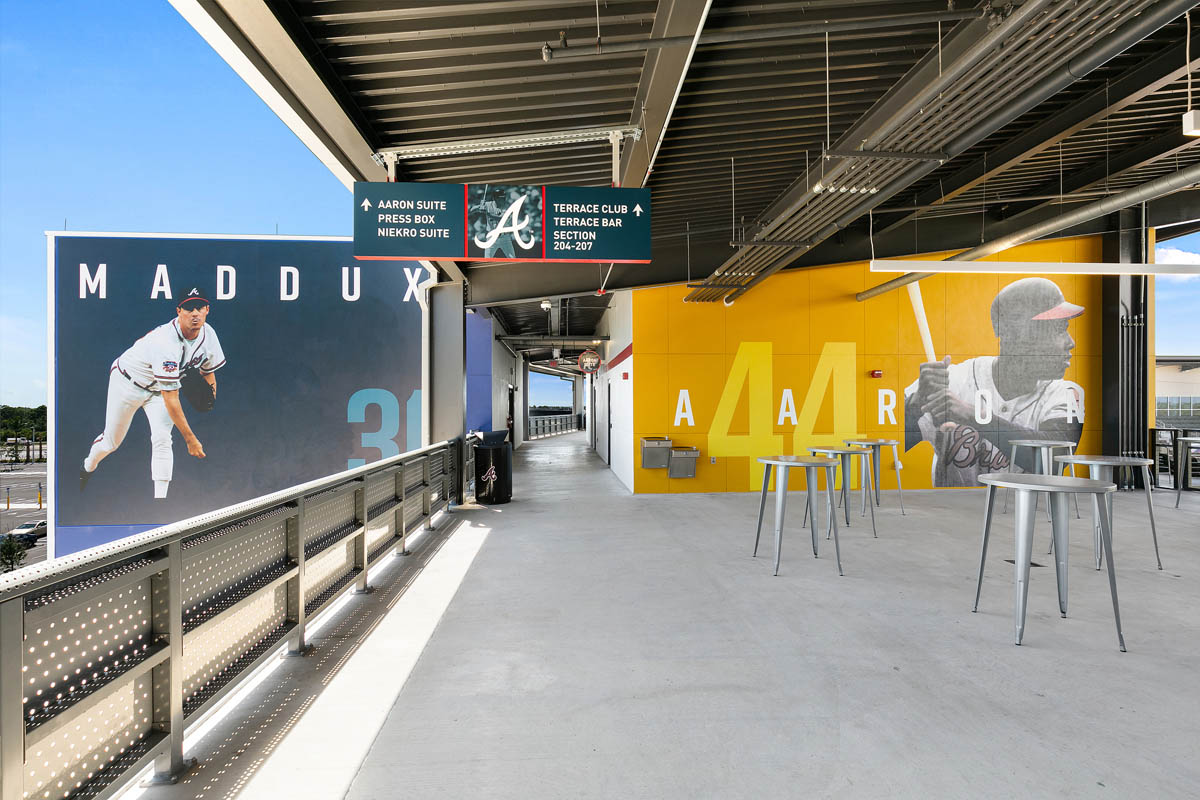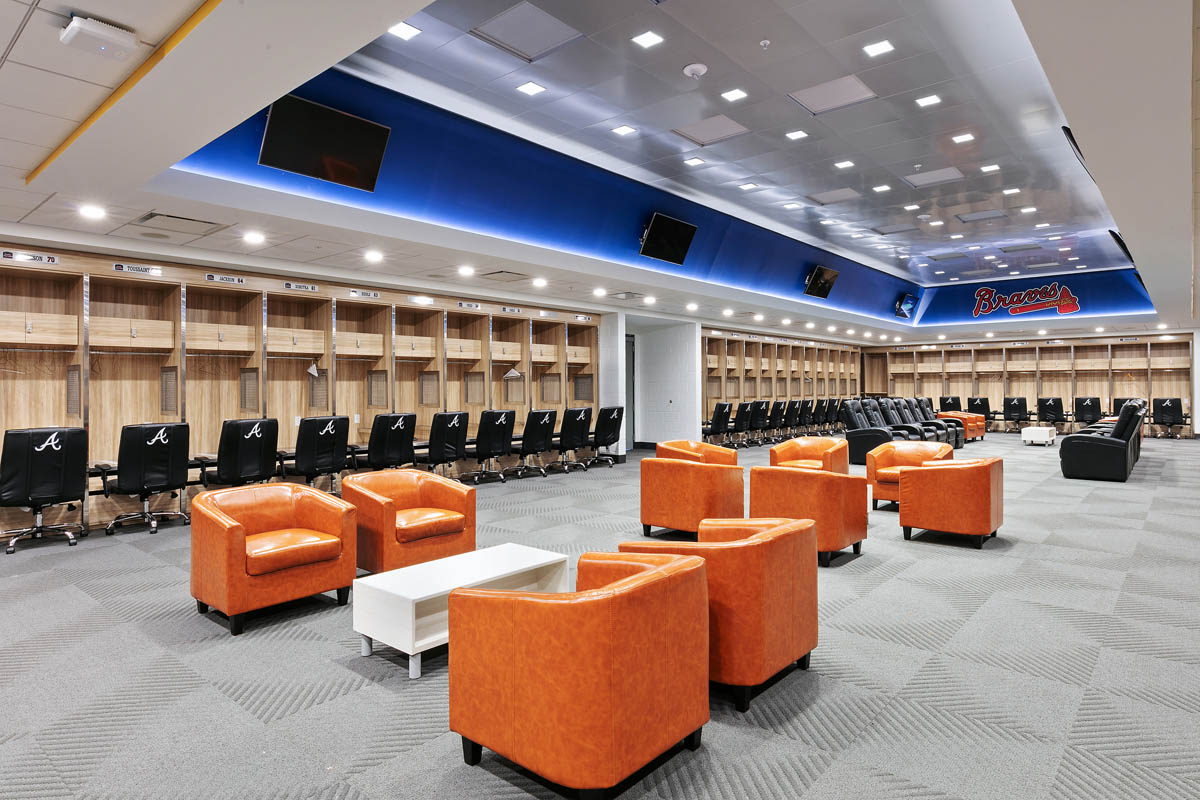 PROJECT COST: $125 Million
Our design celebrates the Braves' rich history by honoring baseball hall of famers in larger than life imagery on strategic building facades. We've borrowed elements from SunTrust Park (Atlanta Braves Major League ballpark in Cobb County, GA) such as outfield wall dimensions, the "Below The Chop" hospitality area in right field, and several other amenities that allow athletes on the field and patrons in the stands to feel connected to SunTrust Park even while attending games in North Port.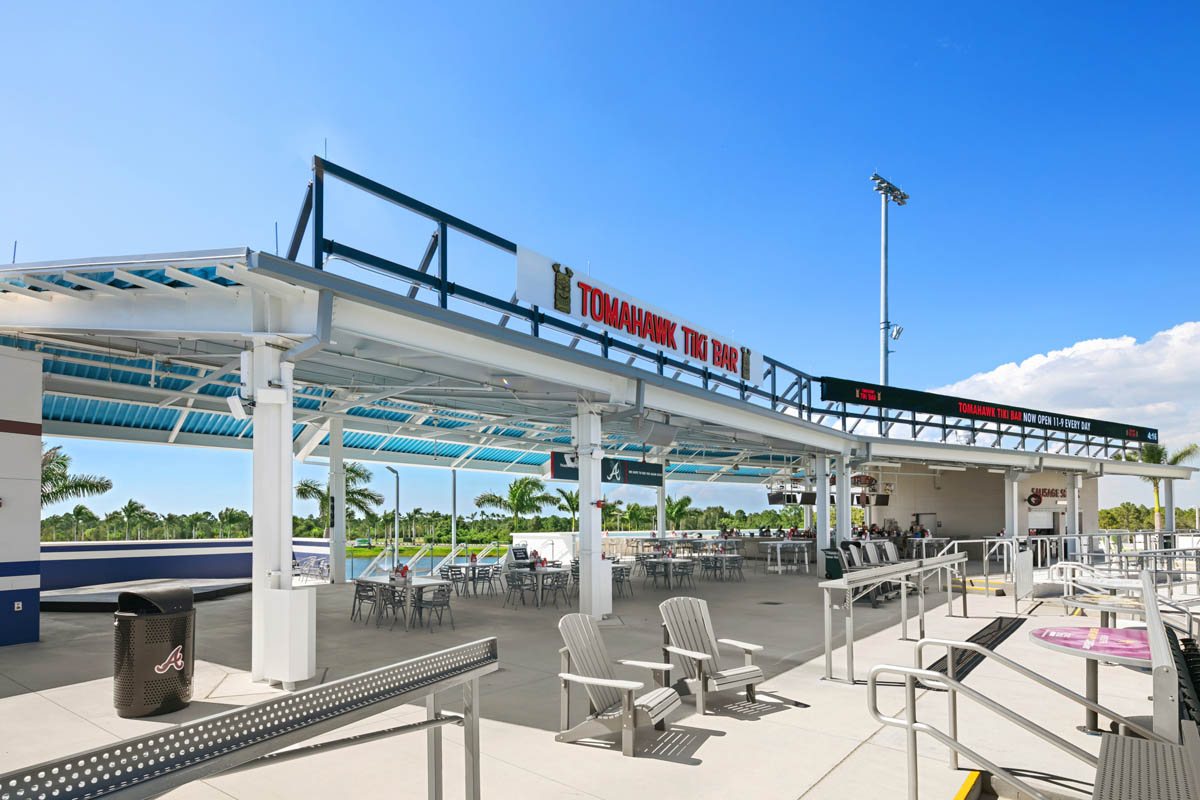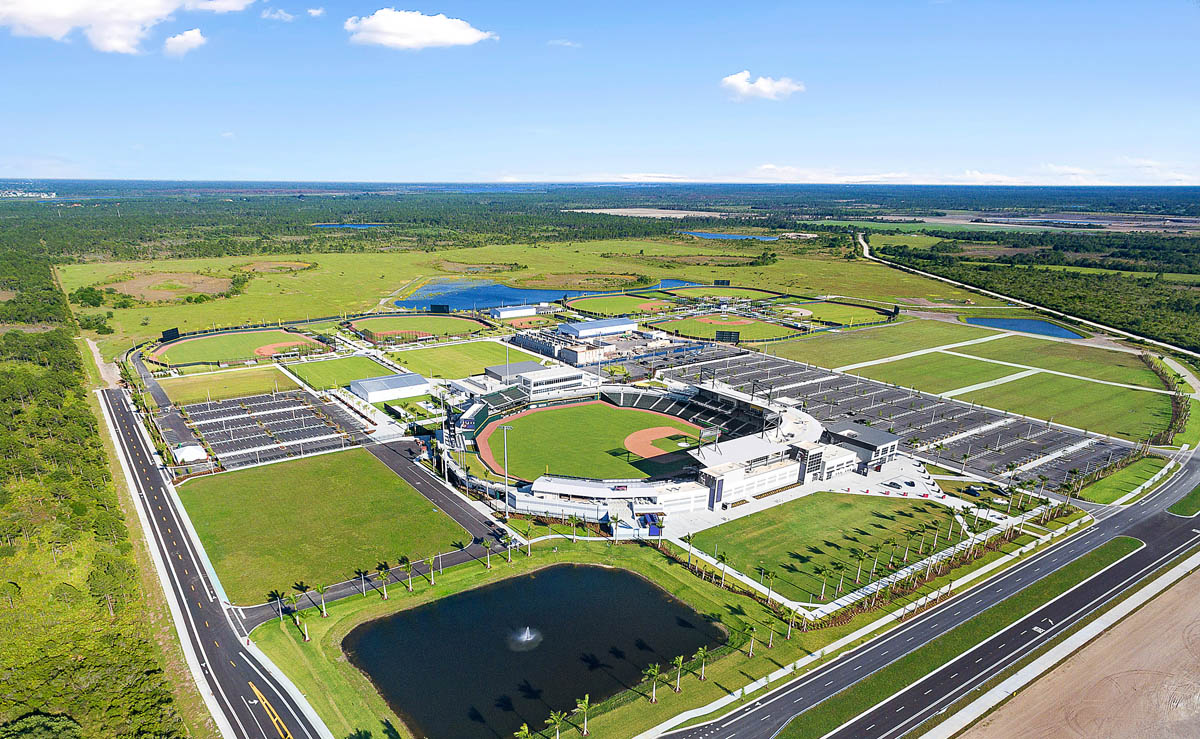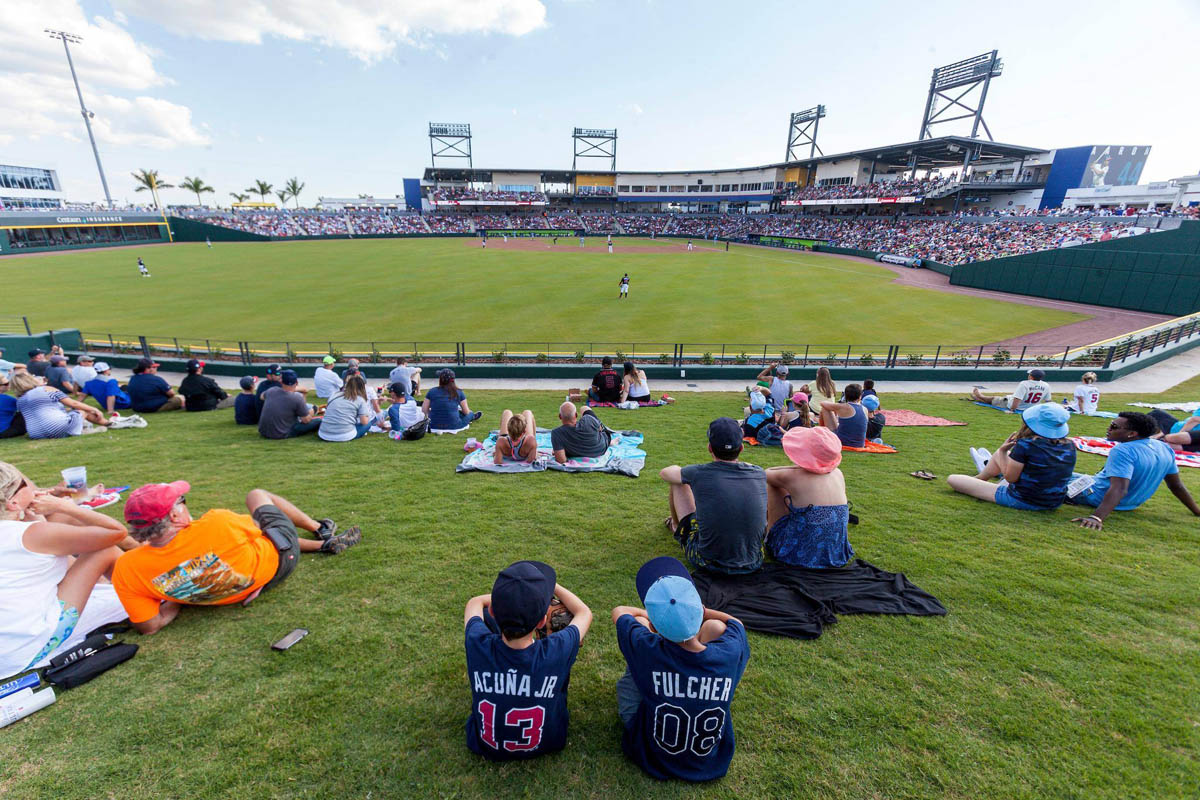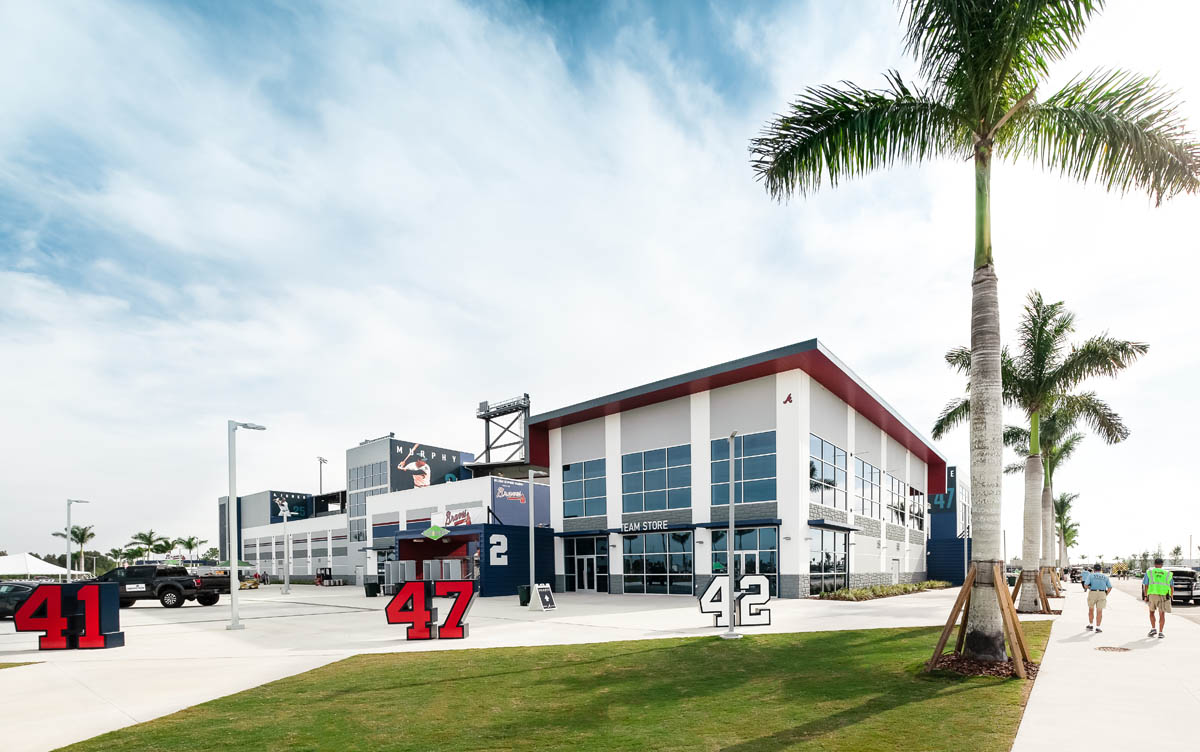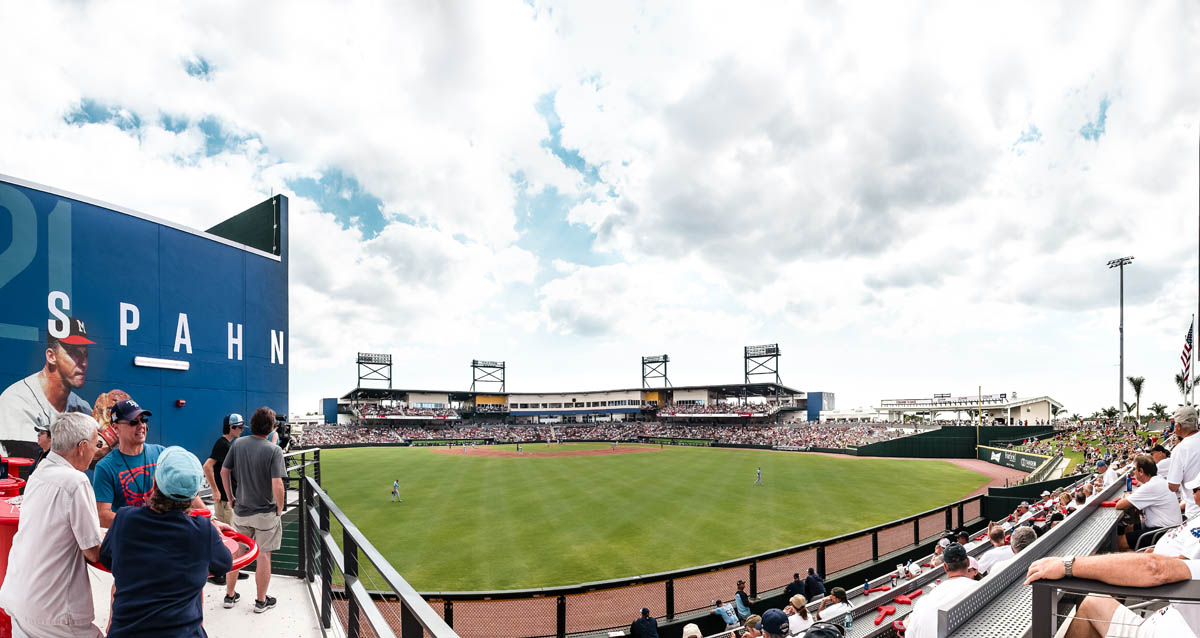 Each programmatic component of the complex is a testament to our design team's vision for where the sports marketplace is headed, embracing the fact that the way people watch baseball has shifted over the last twenty years. Although traditions of old as it relates to the fundamentals of the way the game is played will likely always remain, the average demographic of patrons in the ballpark is different, expectations are higher. Patrons are now demanding unique options when it comes to food, beverage, type of seat, and level of service. The typical demographic is no longer male dominated; women and extended families are now the norm. Moreover, there is an overwhelming demand for enhanced technology from inside the park to the outside world i.e. social media, text messaging, etc.
Our attention to detail in this regard required an extensive coordination effort with our Mechanical, Electrical & Plumbing (MEP) engineers to ensure that at least 90% of overhead conduits that support technology, in addition to conventional plumbing that runs along the main concourse are concealed from visibility. The introduction of wood veneer clad metal clouds below the press box area was essential in executing our intent to maintain a "clean concourse". Atlanta Braves current and historic team colors were then integrated in our cloud ceilings and overall exterior painting scheme as well as the signage, wayfinding and graphics. Public plazas were purpose built for flexibility and the accommodation of civic functions before, during and after hosted events at the ballpark. We paved the minimum amount of parking spaces necessary to accommodate patrons with disabilities (ADA). The balance of the parking is designed for primary use as grass surfaced soccer fields, doubling as overflow parking when required.
As was the case with the Braves' development of the Battery and SunTrust Park in Cobb County, GA, Cool Today Park will serve as a catalyst for continued development in the North Port, FL region. Just prior to the Braves' commitment to build on this particular site, West Villages (primary site owner/developer) was constructing approximately 1,000 new homes per year. With the completion of the Braves Spring Training Campus new development of commercial and retail properties has escalated.